Product description
Poseidon is an all-purpose fish spice seasoning, complementary to all types of seafood. The perfect balance of herbs like dill, chervil, or tarragon paired with complementary aromas from lime leaves to aniseed.
Poseidon, adds a bright flavorful boost and depth to all your fish and shellfish dishes.

Sales name: seasoning blend
Contents: 70 g
Packaging: 192 ml glass with twist-off top
Use
A good fish/shellfish seasoning is a must in every kitchen. Keep Poseidon onhand for quick easy seasoning for everything in the category seafood: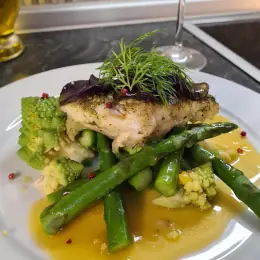 This all-purpose fish seasoning is complementary to all types of seafood and adds a bright flavorful boost to all your shellfish dishes.
It's to be used for every type of fish dish: as a rub before grilling, as a sprinkle-on spice, in soups, or add it to bread crumbs, panko, or flours to create the perfect coating for deep-frying or oven-baking.
It's also fantastic in all types of sauce warm or cold, clear or cream-based.
Note: With Moore than Spice products, the salt content is minimal. You may need to add additional salt to your personal taste.
David's tip
If you like a little more heat or spice in your food, add a few drops of Louisiana Hot.
Ingredients & allergens
Ingredients: mountain salt, rose pepper, palm sugar, anise, fennel seeds, mustard seeds, garlic, dill, chervil, coriander, anchovies (fish), onions, tarragon, mint, white pepper, cinnamon blossoms, ginger, turmeric, kaffir, allspice, juniper berries, lemon peel
May contain traces of celery.


Storage
Store in a cool, dry and dark place.