Currently, there are following selling points with products from "Moore than Spice":
Farm shop in Bochum
You can buy my products on site in this farm shop:


Hiltroper Str. 308, 44805 Bochum
www.hof-sasse.de
Opening hours
| | |
| --- | --- |
| Tue, Wed, Fri | 11 to 18 o'clock |
| Sat, Sun, Holidays | 11 to 15 o'clock |
Closed on Mondays and Thursdays!
"Marktschwaermer"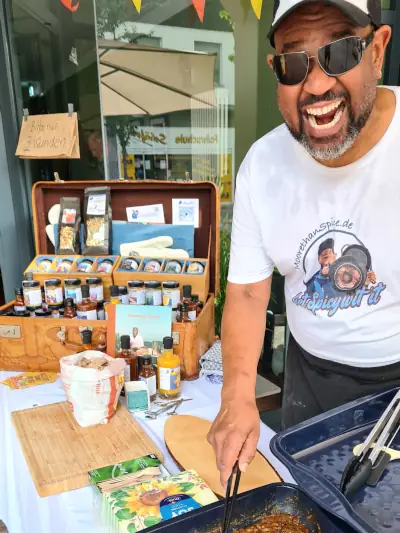 You can order at the "Marktschwärmer" online and pick up the ordered goods on the pick-up day. Sometimes we even offer a tasting so that you can try dips or little dishes with my seasoning mixes. Then, you can also purchase our products on-site.
Here, you'll find an overview of currently delivered to locations and the distribution days.
We participate usually once a month at the "Schwärmereien". Until the middle of July we'll participate even each fortnight and try to stick to the regular dates. Since that doesn't work out all the time, you'll find the upcoming dates in the table below.
Please note
Grünfrau (Dortmund-Schüren) is only a pick-up location for Schwerte now. And the location in Unna closed for good on May 11.
As compensation there's a new Schwaermerei to be founded in Essen! We'll participate there, but it will take several weeks until the opening.
I am represented in these cities at following dates:
Location
Regular Date
Upcoming Deliveries
Bochum
last Thursday of a month
15.06.2023, 29.06.2023, 13.07.2023, 27.07.2023
Dortmund-Westpark
first Thursday of a month
15.06.2023, 29.06.2023, 13.07.2023
Essen
being set up
opening date yet unknown
Iserlohn
first Friday of a month
(no delivery in June or July)
Last order on each previous Wednesday at 2 pm!
Schwelm
first Wednesday of a month
07.06.2023, 14.06.2023, 28.06.2023, 12.07.2023
Schwerte
first Tuesday of a month
13.06.2023, 20.06.2023, 04.07.2023
Last order on each previous Wednesday at 2 pm!
Wetter
first Wednesday of a month
07.06.2023, 14.06.2023, 28.06.2023, 12.07.2023