With following links you get directly to the selling points with products from "Moore than Spice":
Farmers' market "Huxhardter Herbst"
This year we'll participate at the beautiful Huxhardter Herbst. The farmers' and creative market will be held at Hof Huxhardt with numerous products from a variety of producers and artists.
When: Sunday, October 29, 2023
Where: Huxhardt 1, 58579 Schalksmühle
Sale points
We are delighted to add the first selling point in Düsseldorf with products from "Moore than Spice":
Bochum
You can buy my products in Bochum in this farm shop:
Hof Sasse
Hiltroper Str. 308
44805 Bochum
www.hof-sasse.de
Opening hours
| | |
| --- | --- |
| Tue, Wed, Fri | 11 to 18 o'clock |
| Sat, Sun, Holidays | 11 to 15 o'clock |
Closed on Mondays and Thursdays!
Düsseldorf
As of September 25, 2023, you'll be able to buy our products in the center of Düsseldorf, too:

Arzneikräuterhaus Phytokraft GmbH
Wielandstraße 21
40211 Düsseldorf
www.phytokraft.de
Opening hours
| | |
| --- | --- |
| Monday through Friday | 11 to 18 o'clock |
| Saturday | 11 to 17 o'clock |
"Marktschwaermer"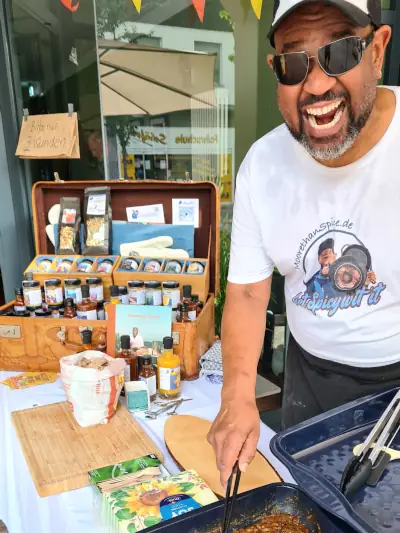 You can order at the "Marktschwärmer" online and pick up the ordered goods on the pick-up day. Sometimes we even offer a tasting so that you can try dips or little dishes with my seasoning mixes. Then, you can also purchase our products on-site.
Here, you'll find an overview of currently delivered to locations and the distribution days.
We participate usually once or twice a month at the "Schwärmereien". You'll find the upcoming dates in the table below.
I am represented in these cities at following dates:
| Location | Upcoming Deliveries |
| --- | --- |
| Bochum | 28.09.2023 (last day until a new host for the Schwaermerei is found) |
| Dortmund | 28.09.2023, 12.10.2023, 26.10.2023, 23.11.2023, 07.12.2023 (Last order on each previous Tuesday at 11 am!) |
| Iserlohn | 06.10.2023, 17.11.2023, 01.12.2023 |
| Schwelm | 27.09.2023, 25.10.2023, 29.11.2023 |
| Schwerte | 26.09.2023, 10.10.2023, 24.10.2023, 21.11.2023, 05.12.2023 |
| Wetter | 27.09.2023, 11.10.2023, 25.10.2023, 22.11.2023, 06.12.2023 |