Good chili sauces: hot, but also aromatic
Chili sauces are a delicious way to add a touch of spiciness and flavor to any dish. There are many different types of chili sauces that vary in spiciness, flavor and ingredients. Some of the most well-known chili sauces are Tabasco, Sriracha, Sambal Oelek, and Harissa. The sauces are made from different varieties of chili peppers that are dried, roasted, fermented or processed freshly.
Chili sauces can also contain spices, herbs, vinegar, sugar, or fruit to add depth and complexity. Good chili sauces are characterized by the high quality of the ingredients, a balanced spiciness and an intense taste - and are not just hot! They can be served with many different dishes such as pizza, pasta, soups, salads or sandwiches.
Chili sauces are not only delicious, but also healthy. They contain capsaicin, a substance responsible for the spiciness of chili peppers. Capsaicin has many positive effects on the body, such as stimulating metabolism, promoting blood circulation, relieving pain and strengthening the immune system.
Therefore, good chili sauces are a great addition to any kitchen and palate.
Louisiana Hot - hot and yet very tasteful
My chili sauce Louisiana Hot has a pleasant spiciness. It consists of a hand-picked selection of several kinds of chilis which bring a great variety of taste through the combination with other ingredients like freshly pressed lemon juice, grape seed oil and several herbs.
Depending on how much you use you can determine the spiciness for any taste!
Louisiana Sun - yellow and hot, just like the sun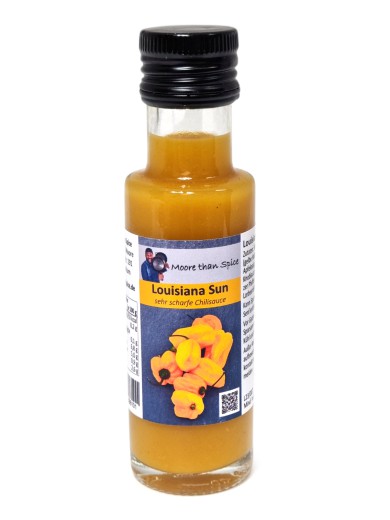 I use yellow habaneros for my hottest sauce Louisiana Sun. They are fermented together with yellow bell peppers for several weeks to develop the outstanding taste of this chili sauce.
With the additional ingredients, this sauce has a fruity aroma despite its intense heat and impresses with its taste.
What characterizes a delicious barbecue sauce?
A BBQ sauce is a flavorful grill sauce that is often used to grill or marinate meat. A BBQ sauce goes well with beef, pork or chicken and gives the dish an intense and aromatic taste with the typical smoky note. It is also a delicious side dish for meat, vegetables or bread.
The special thing about a tasty BBQ sauce is that it combines different flavors in a balanced way, such as sweet, sour, hot and slightly smoky. A barbecue sauce can be made from a variety of ingredients, such as tomato paste, vinegar, sugar, spices, and smoke flavoring. Depending on the region or preference, a BBQ sauce can be more or less thick, sweet or spicy.
Louisiana Soul is THE BBQ sauce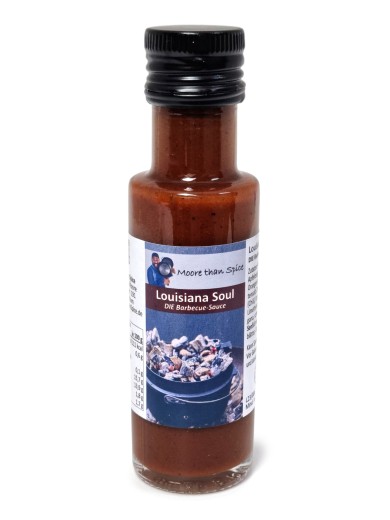 My barbecue sauce Louisiana Soul combines all of these flavors. It has the fruity sweetness of oranges and tomatoes, the decent acidity of lime and apple cider vinegar, a slight spiciness of chili and allspice and the smoky note of mezcal. I also use coffee beans as a spice. Together with other herbs and spices, this sauce achieves a comprehensive variety of tastes.
If you enjoy the Louisiana Soul pure or as a dip, it has a mild spiciness. But as soon as you use it e.g. as a marinade on a juicy grilled steak, the spiciness will infuse into your grilled food together with the diverse aromas and should be enjoyable for everyone - even those who don't eat spicy at all.