Product description
Lemon herb seasoning is a simple and yet magical, handmade infusion. This savory blend of "Limone di Massa" lemon zest, with a touch of salt as well as nuances of garlic and sage will add an explosion of flavor, and a ray of sunshine, to every dish.
For best results use with a spice grinder.

By the way, my Lemon Herb Seasoning is not a lemon salt, because the salt content is too low for it. At seasoning salts, the salt content must be at least 40%. That's too much salt for me, because I want to add flavor to my dishes and not over-season them.

Sales name: seasoning blend
Contents: 90 g
Packaging: 192 ml glass with twist-off top
Use
In most cases, you may want to grind your lemon blend using a spice grinder or pestle with mortar.
Complementary to:
chicken and veal
fish and shellfish
tofu
roasted vegetables, particularly asparagus, zucchini, cauliflower, green beans, or cabbages and greens

You'll find endless ways to use it in your day-to-day meal preparation, here are a few of mine: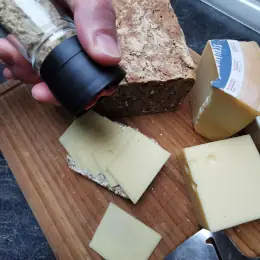 Sprinkle on your boiled eggs, your scrambled eggs, cheeses, or sandwiches.
Add it to the cooking liquid for your rice, quinoa, or pasta for some extra pizzaz.
Pimp your salads, especially those with fresh fruits, tomatoes, mozzarella, etc.
Mix in yogurt, cream cheese, lemon butter, hummus, sauces, salad dressings, mayonnaise, ketchup or even guacamole.
Note: With Moore than Spice products, the salt content is minimal. You may need to add additional salt to your personal taste.
Ingredients & allergens
Ingredients: 69% lemon peel, mountain salt, garlic, sage
May contain traces of celery and mustard.





** Sugar contents are naturally occuring, no additional sugar added.